> BRIDAL
> 【Photo Wedding】Introducing the charm of Hokkaido location photo popular spot "Sapporo Moerenuma Park"!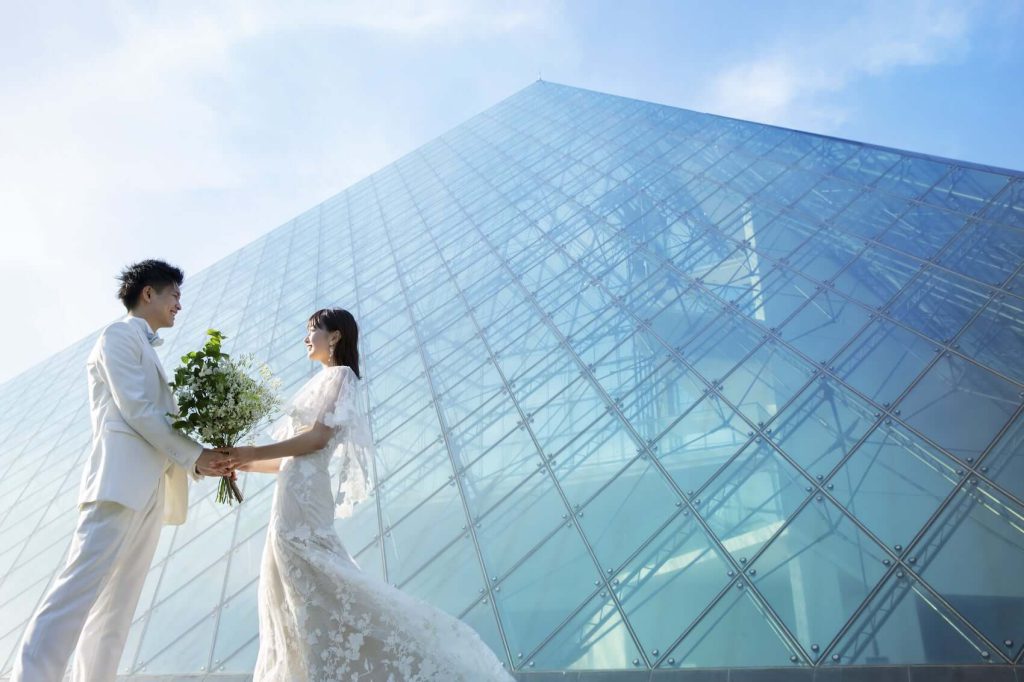 【Photo Wedding】Introducing the charm of Hokkaido location photo popular spot "Sapporo Moerenuma Park"!
A photo wedding taken in the magnificent scenery of Hokkaido is exceptional. Moerenuma Park is one of the most popular locations for location photos. We will introduce the charm of this popular spot with wedding photos actually taken at the park!
Hello everyone☆
Photo Studio Palette, a photo wedding studio in Sapporo, Hokkaido.
The charm of Hokkaido is the natural beauty of the four seasons.
I think there are many people who have a longing for a photo wedding in such a beautiful scenery.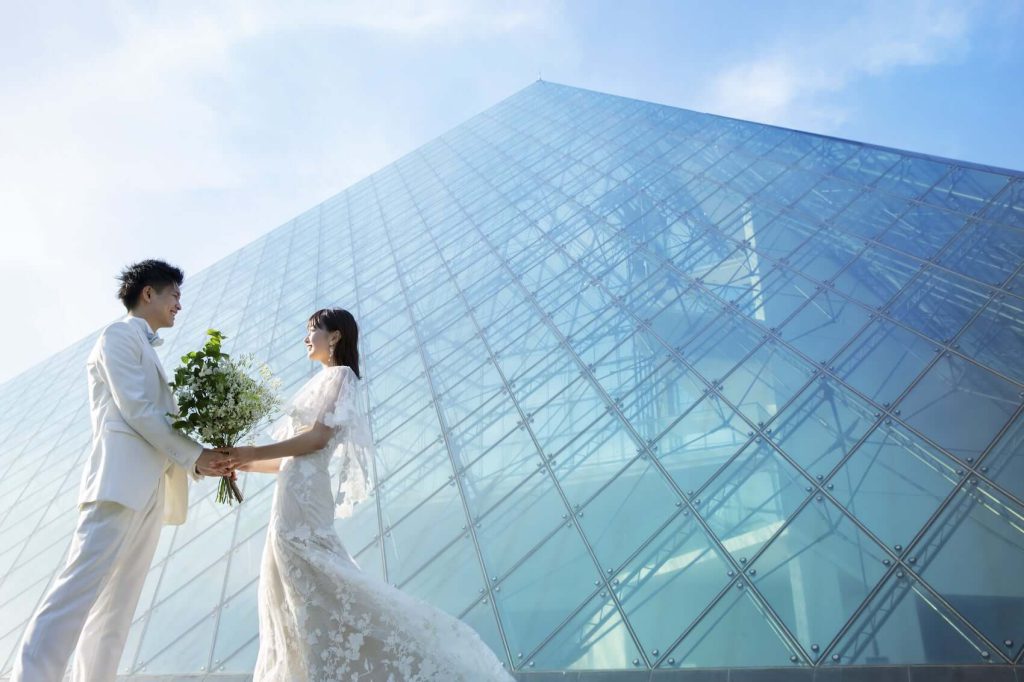 For location photos, Palette carefully selects and proposes spots where you can take full advantage of the beautiful scenery of Sapporo.
You can shoot natural expressions in a vast landscape.
This time, we will thoroughly explain the charm of one of the most popular spots, "Moerenuma Park"!
For those in Hokkaido who are thinking about location photos,
For those who live outside of Hokkaido and want to take location photos during their trip to Hokkaido,
Please read to the end and use it as a reference ♡
Popular filming location "Moerenuma Park"
Well, what is "Moerenuma Park", which is a very popular location?
Location: 1-1 Moerenuma Park, Higashi-ku, Sapporo, Hokkaido 007-0011
Moerenuma Park is a multi-purpose park located in Higashi-ku, Sapporo, which opened in 2005.
The most famous thing is that the basic design was done by world-famous sculptor Isamu Noguchi.
According to the concept of "making the whole into one sculpture",
Symbolic mountains, fountains, playground equipment, etc.
It is one huge work that fuses nature and art.
Because there are many places on the premises that can be used as photo spots,
In recent years, it has become popular as a location for photo weddings.
Access from central Sapporo
▷Access by car from central Sapporo
Duration: about 30 minutes
Take National Route 12, National Route 275, and Route 89 (Kanjo-dori), then head towards Nakanuma on Sankudo-dori.
▷ Access by public transportation
Duration: about 1 hour
・From Subway Sapporo Station, take the Subway Toho Line bound for Sakaemachi.
→ Get off at Kanjo-dori Higashi Station
→ Take "Chuo Bus Higashi 69/79" and walk 10 minutes from "Moere Park East Exit"
Palette's location photo comes with a taxi transfer to the location,
After doing hair makeup and dressing in the studio, we will move to the site.
Since it can be accessed through a wide national highway,
people outside Hokkaido or overseas can also enjoy the scenery of the city near the center while moving.
Access from New Chitose Airport
If you live outside of Hokkaido or overseas, please refer to Access from New Chitose Airport here.
Why not enjoy a location photo wedding as one of the pleasures of traveling in Hokkaido?
▷ Access by public transportation
Required time: about 2 hours and 15 minutes
・From New Chitose Airport, take the JR Chitose Line Rapid Service bound for Sapporo Airport
→Get off at JR Sapporo Station
→ Get on the Subway Toho Line for Sakaemachi
→ Get off at Kanjo-dori Higashi Station
→ Take "Chuo Bus Higashi 69/79" and walk 10 minutes from "Moere Park East Exit"
▷ Access by car
Required time (highway use): about 47 minutes 56.0 km
Proceed on Hokkaido Expressway via Route 130 and Route 1091.
Exit the Sasson Expressway at Fushiko IC and proceed toward Nakanuma on Mikageten-dori.
It will be a little difficult to visit by public transportation, so if you are planning to go sightseeing from outside Hokkaido,
We recommend renting a car from the airport!
Photo shoot at Moerenuma Park
So, what kind of wedding photos can you take when you actually shoot in Moerenuma Park?
From here, we will introduce actual photos for each shooting spot ☆
Glass Pyramid "HIDAMARI"
A glass pyramid that symbolizes Moerenuma Park, which opened prior to the grand opening.
Various events, concerts, exhibitions, etc. are always held in the hall.
Photo Wedding shooting will take advantage of the appearance of the pyramid.
The greatest attraction of glass is that it reflects the surrounding scenery from time to time.
The contrast between the grass and the blue sky in summer, the fragile autumn leaves in autumn, and the snowy landscape in winter make for a very dramatic photo shoot in front of the glass.
The light reflected on the glass gently envelops the two of you.
Mount Moere
Mount Moere is a landmark of the park.
Because it is an artificial mountain made as a huge sculpture, the straight stairs and the curve of the mountain surface are perfect forms,
It is a magnificent spot that is sure to be photographed.
The stairs leading straight to the top of the mountain are perfect for photo weddings, symbolizing the road that the two of you will walk together.
In addition to the straight stairs, there is also a winding road that goes around the mountain surface, and the scenery from the foot of the mountain is also outstanding.
Birch grove
White birch is a tree unique to Hokkaido, with a beautiful white trunk.
There is a white birch tree-lined road in Moerenuma, which is also a perfect photo spot for photo weddings.
Moerenuma has a strong image of dress, but this white birch tree-lined area is a beautiful place where Japanese clothing such as Shiromuku and Irouchikake also shines.
The white birch standing in the green meadow makes the two of them stand out.
The promenade covered with wood chips makes for a perfect composition when you take a close-up photo♡
There are many other photogenic spots in Moerenuma Park, such as fountains and artistic playground equipment.
In addition, it is possible to shoot inside the glass pyramid by applying in advance.
The glass taken from inside the building is also very beautiful, so if you would like to shoot inside the building, please let us know in advance.
Palette's location photo points!
Why is Palette's location plan so popular?
There are many reasons for its popularity!
・Saturdays, Sundays, and holidays are also available at an additional charge of 0 yen!
It is a guide at a safe tax-included price regardless of Saturdays, Sundays, or weekdays.
・Reliable costume cleaning fee is free!
If you are shooting outside, you will be worried about the dirt on your clothes.
At our shop, we do not provide a separate cleaning fee so that you can enjoy it to the fullest!
・Including facility usage fee!
Each shooting location has its own facility usage fee, but this is included in the plan, so don't worry!
・Same day delivery of more than 100 cuts of data!
Our staff will check the facial expressions of the couple and the focus of the photo, so you can choose the facial expression you like and use it right away!
・ We will guide you to the moving vehicle (taxi fare) to the location within the plan!
Don't worry because the shooting assistant will ride with you♪
・You can take pictures with your own camera or mobile phone!
・ Accompanied by a safe shooting assistant!
Location photos are recommended for such couples!
Why choose location photography over studio photography?
The unique charm of location photography is recommended for these couples!
▷ I want to enjoy a sense of openness and freedom!
Location photos have no particular shape or size restrictions, so
You can freely use the small items you brought with you, or try changing your shoes into sneakers, so you can take pictures that make the most of your individuality.
Highly recommended for couples who want to take pictures that are different from others and want to express themselves!
▷I want to take pictures during my trip to Hokkaido!
There are many people who visit Hokkaido for premarital trips or honeymoon trips and have photo weddings in the magnificent scenery of Hokkaido at that time.
Even if you are far away, you can have a meeting in advance with online counseling, so you can make a plan with confidence ♡
Please leave your memories of your trip to Hokkaido in wonderful wedding photos.
Check here for the location plan!
Counseling first! Click here to make a reservation
3 steps from meeting to shooting

1. Go to a store and try on clothes
First of all, go to the store and try on both of them!
Decide which costume you will wear on the day by actually wearing your favorite costume!
If you can't decide in one time, you can come again on another day!
2.Meeting about what kind of photo to make
Next, we will discuss what kind of photos you would like to take!
We will talk in detail about the particular poses and situations, and the accessories you bring!

You can also ask questions about hair and makeup!
3. Finally shooting!
Once everything is done, it's time to shoot! !
On the day of the event, the hair and make-up artist will do the hair and make-up and the photo will be taken! !
Hair and makeup will be done at the shop!

After finishing the hair and makeup, we will drive to the location!
Location-compatible stores in Sapporo city
Including Moerenuma Park, we are introducing location photos in Sapporo city.
We will introduce 2 stores.
▷ Photo Studio Palette Sapporo Factory
The factory store was relocated and renewed in November last year and was reborn as a large-scale two-story store.
Within a 3-minute walk from the subway, there is also a large parking lot.
It is very convenient to use public transportation, rent-a-car or private car.
It is located in a commercial facility created by redeveloping a historical building in Sapporo City.
The quaint brick building is worth a visit!
Sapporo Factory HP:https://sapporofactory.jp
One of the attractions is that it is easy to come by public transportation, rental car, or private car.
★Customers using public transportation
★Customers using the subway
Get off at Subway Tozai Line "Bus Center Mae" station, 3 minutes walk from Exit 8.
★Customers using the bus
Get off at Hokkaido Chuo Bus Factory Line "Sapporo Factory" stop
Take the JR Hokkaido Bus from Sapporo Station Bus Terminal No. 2, 3, 4 and get off at Sapporo Factory.
* Excluding route number [5] and highway buses.

★Customers using cars/Parking information
Large parking lot with more than 1000 cars.
If you use the Sapporo Factory exclusive parking lot, we will provide a parking fee for 4 hours! ! (Don't forget to bring your parking ticket)
Parking Lot 1, Parking Lot 2, and Parking Lot 4 are available.
Not only on the day of the shoot, but we also offer services such as costume fitting, plan guidance, and studio tours!
Click here for details of the Sapporo Factory parking lot
Location: 1-2 Sapporo Factory Brick Building 1F, Kita 2-jo Higashi 4-chome, Chuo-ku, Sapporo
※It will be across from 7-Eleven.
TEL: 011-207-4466
Business hours: AM10:00-PM6:30 (regular holiday: open every day)
Parking: Please use the Sapporo Factory parking lot
▷Sapporo Central Store
A state-of-the-art store that constantly updates its studio and costumes to match the latest trends!
Leave it to us for today's fashionable photo wedding!
★Customers using public transportation
Right in the center of Sapporo city! It is an urban store with a good location and very easy access by public transportation.
From New Chitose Airport (required time: about 55 minutes)
・JR Chitose Line Rapid Airport bound for Sapporo → Get off at Sapporo Station
・From Sapporo Station on the Namboku Subway Line bound for Makomanai → Get off at Odori Station
・About 5 minutes on foot!
It is very convenient from the entrance of Sapporo PARCO facing Shower Street.
★Customers using cars/Parking information
From New Chitose Airport (required time: about 50 minutes)
・Enter Heiwa no Doo Expressway from Route 130 and Route 1091.
・Take the Do-O Expressway to Sapporo Shindo/National Route 274 in Kitago 5-jo, Sapporo City, and exit the Do-O Expressway at Kitago IC.
・Take Atsubetsu-dori, Minami 7-jo/Yonezato-dori, and Minami 1-jo-dori until you reach your destination at Minami 2-jo West.

★Guidance of parking lot
If you are coming by car, please park in a parking lot that accepts Common Tickets and present your parking ticket when you come to the store.
Click here for a parking lot that supports Common Ticket
▶︎http://sapporo-odori.jp/cmon/parking/
Visitors will receive a parking ticket for up to 2 hours.
—————————————————————-
Location: 11-1k-23 Building B1F, Minami 2-jo Nishi 3-chome, Chuo-ku, Sapporo
Location: Get off at Odori Subway Station. Good access 1 minute on foot◎
TEL: 011-596-8155
Business hours: AM10:00-PM6:30 (regular holiday: Wednesday)
▷  Check out the article here ↓↓↓
・【Photo Wedding】 Introducing Asahiyama Memorial Park, a popular location photo spot in Hokkaido.*
【Photo Wedding】 Introducing Asahiyama Memorial Park, a popular location photo spot in Hokkaido.*